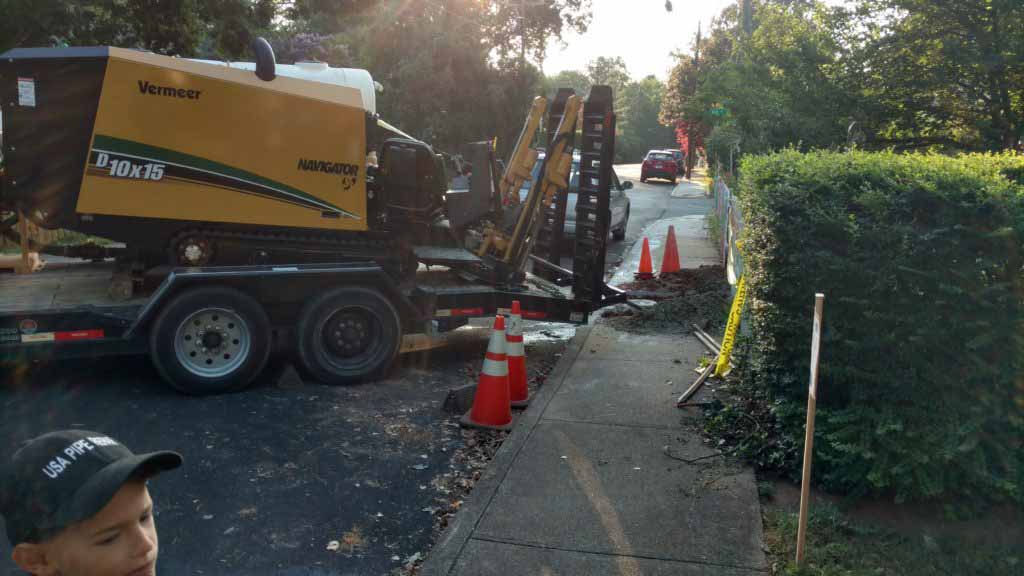 It used to be that when there was an underground plumbing problem, then a lengthy process would follow in trying to diagnose the problem. In recent years, there was a technology built that made professional inspections and services became lower and more cost effective. This technology was called Trenchless technology.
This technology included a sewer inspection camera and hydro jetting equipment to clean the pipeline system. Directional Drilling or Horizontal Directional Drilling (HDD) is a method used by the trenchless technology. It is processed in three phases: the first is creating a pilot hole strategically placed in the ground. In the second phase this pilot hole is made larger to prepare for the new line and the final stage the new line is established and connected. There are a few benefits that comes from using this trenchless method.
1. Faster Installation
Utilizing the horizontal drilling method compared to digging a trench for underground work is far faster. When digging a trench underground in order to add a piping system does a lot more damage not only to the ground, but it also takes a significant amount of time to put everything back together; however, using the directional drilling method requires only one pilot hole and a machine to replace underground piping.
2. Lower Cost
Directional drilling is much more cost effective compared to digging a trench to replace any underground piping. Since the entire process takes much less time and much less dirt to replace when the project is finished and it uses less machinery compared to a regular method. Less machinery means lower cost.
3. Less Disruption
Directional Drilling uses only one machine and one pilot hole that it works through in order to accomplish this project disrupts the property much less. When we talk about disruption we are talking about the amount of landscaping that is disrupted and the amount of time it takes to complete the project. Both are cut down significantly when using an HDD method.
At USA Pipe Repair, we specialize the trenchless technology and trenchless methods. We offer this an option because we want to offer the best and fastest possible services to our customers. Contact our friendly and trustworthy team and schedule an appointment. We look forward to working with you.
Contact our dedicated staff for a consultation. We look forward to your call.
Get in Touch With the Top-Rated Plumber in Richmond, VA Today!
See for yourself why we're the top choice for top-notch, budget-friendly general plumbing, drain cleaning, excavation, and sewer repair services. Complete client satisfaction is what we aim for every time. Contact us today by calling us or filling out the form to schedule an appointment or request assistance.
In Business Since: 2001
State Licensing
Trade: Plumbing
License #: 2705140622
Expiration: 11-20-2022
Trade: Landscape Service Contracting
License #: 2705140622
Expiration: 11-20-2022
Trade: Highway / Heavy Contractors
License #: 2705140622
Expiration: 11-20-2022
Trade: Master Plumber
License #: 2710066245
Expiration: 02-28-2022
Trade: Class A Contractor
License #: 2705140622
Expiration: 11-20-2022