Understanding the Trenchless Pipe Lining Repair Process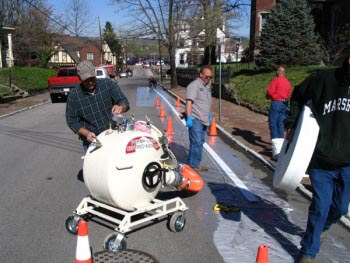 If you are looking for a way to fix your sewer line and drains in an eco-friendly way, trenchless pipe lining in Henrico, VA is an alternative you should consider. It is a non-invasive procedure for repairing broken pipes that works well in addressing erosion, fractures, and even root invasion. At USA Pipe Repair, we specialize in this type of repair and can provide you with the best services. We explain our pipe lining process below:
Pipe Inspections and Cleaning
The CIPP pipe lining procedure begins with a video inspection of the deteriorated pipe to identify the source of the problem and evaluate whether the pipe is suitable for pipelining. After we have located the pipe and determined the extent of the damage, we would then perform hydro jetting.
Hydro jetting is a method of drain cleaning that entails shooting a high-pressured water jet down the pipe to clear out dirt and potential obstructions. This won't worsen the damage and instead ensures that the lining epoxy adheres to the pipe's inner surface. If you have any questions about this step of the repair, feel free to ask our plumber in Henrico, VA.
Installation and Curing
After the pipe is clean and dry, we would then install an elastic liner with an epoxy coating into the affected pipe. This is executed from one side, with an inflated bladder pushing it against the pipe walls, resulting in it sticking to the inner pipe walls. After that, the coating is allowed to cure for about half an hour, creating an airtight seal with the pipe. Once the coating has hardened, the sewer pipe lining process is done and the pipe can be used.
Cast iron pipe lining also uses this type of pipe restoration for damaged pipes. It is an environment-friendly process as it does not require excavation of your lawns to reach the affected pipes.
USA Pipe Repair is among the top pipe lining companies offering quality sewer repair in Henrico, VA. Contact us to know more about quality plumbing solutions or to book an appointment.
Get in Touch With the Top-Rated Plumber in Richmond, VA Today!
See for yourself why we're the top choice for top-notch, budget-friendly general plumbing, drain cleaning, excavation, and sewer repair services. Complete client satisfaction is what we aim for every time. Contact us today by calling us or filling out the form to schedule an appointment or request assistance.
In Business Since: 2001
State Licensing
Trade: Plumbing
License #: 2705140622
Expiration: 11-20-2022
Trade: Landscape Service Contracting
License #: 2705140622
Expiration: 11-20-2022
Trade: Highway / Heavy Contractors
License #: 2705140622
Expiration: 11-20-2022
Trade: Master Plumber
License #: 2710066245
Expiration: 02-28-2022
Trade: Class A Contractor
License #: 2705140622
Expiration: 11-20-2022